Home Helpers® Named "2019 Top Low Cost Franchise" by Franchise Business Review
Home Helpers® is recognized throughout the country as the leading name of in-home care franchise companies. We have been focused on expanding our business to allow more and more franchisees to join our supportive family, to begin a career path they will truly enjoy, and to provide better in-home care to more people, of course.
Our team at Home Helpers® is more than excited to announce that we have been recognized for franchise industry greatness and staying true to our core values as we continue to grow. Franchise Business Review (FBR) recently awarded us a "2019 Top Low Cost Franchise" award! If you recall, we also earned this title in 2018. Franchise Business Review is considered to be the trusted organization in the country when it comes to fairly rating, reviewing, and recognizing franchise companies.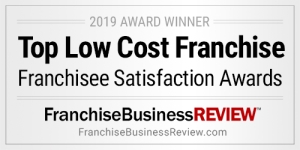 This FBR award in particular is given to franchise companies nationwide who have a comparatively low start-up cost and obligations for new franchisees, and who also achieve high marks in terms of franchisee satisfaction. We know that we would not be the successful in-home care franchise opportunity company we are today without our franchisees carrying on our traditions and building our reputation. With this always in our hearts and minds, we try to go above and beyond for our franchisees to make certain they are happy and set for success from the first minute they open their doors.
From all of us at Home Helpers®, we send sincere thanks to our franchisees who have helped make this "2019 Top Low Cost Franchise" award possible for us. We love that you are here and part of our thriving franchise team. Let's keep going forward to make incredible things happen this year, and for many, many years to come!
You can learn more about Franchise Business Review by clicking here and visiting the organization's official website. Are you interested in joining the Home Helpers® franchise family? We are always looking for entrepreneurs with a spark for business and a love for providing a valuable service to people in need. Please take a moment to learn about initial investment requirements, review our steps to ownership, and check available territories. You can also call us at (844) 899-8801 to speak with a friendly team member today!
Posted By
Home Helpers