Home Helpers® Named Among 200 Best Franchises to Buy in 2020 by FBR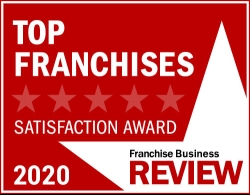 Home Helpers® is a growing senior care franchise company with franchise owners across the country. We are not growing simply due to an increased demand for in-home care, though. We are growing because we take care of our franchise owners with genuine support systems. Not to mention, our business model has a strong potential for profitability when managed correctly.
In recognition of our success and what sets Home Helpers® apart from other similar franchises, Franchise Business Review (FBR) recently named us among its 200 Best Franchises to Buy in 2020. We were also a 2019 Top Low Cost Franchises Franchisee Satisfaction Awards winner, also issued by FBR.
Tens of thousands of franchise owners from hundreds of different franchises are surveyed each year by FBR. The voluntary survey asks 33 benchmark questions to assess how happy, satisfied, and supported the franchise owner is. Franchise companies that provide opportunities for growth and training tended to receive higher praise from their franchise owners. Companies with strong, relatable core values were also ranked better by their franchise owners more often. Profit opportunities were also considered by FBR in compiling this annual list.
Thank you to all of our franchise owners who helped us earn our spot on the 200 Best Franchises to Buy in 2020. We appreciate all you do and look forward to many more years of great business together!
More About Franchise Business Review
Franchise Business Review is one of the nation's leading organizations that independently researches and reports on franchise companies. It is trusted by professionals throughout the franchise world for its unbiased, honest reports and reviews. With this in mind, we are proud to say that FBR has had plenty of positive things to say about us, including this most recent selection.
Do you want to become a part of the Home Helpers® franchise family? Consider what makes us different:
Only home care franchise approved by the Department of Defense to recruit military spouses and family members.
Extensive training for new owners, including two years of fully customized new owner support.
Multiple ways for franchise owners to collect profit thanks to our various profit centers, all focused on in-home care.
Dozens of referral partner appointments are provided for new franchise owners to make establishing future sales opportunities even easier.
Proprietary data analysis systems let us find the optimal available territory for inquiring new franchise owners.
Would you like to know more about Home Helpers®? You can visit our profile page on the official Franchise Business Review website by clicking here. If you think your next entrepreneurial journey should be with us, please take a moment to review our steps to ownership. Great opportunities await, so get started today!
Posted By
Home Helpers®