Home Helpers® Home Care Awards
People Are Raving About Our In-Home Care Franchise
Since 1997, we have been committed to providing convenient in-home services for our communities. We are proud that we have been consistently recognized for our services and boast over $1 billion in system revenue. With our unmatched ongoing training opportunities for both you and your caregivers, it's no wonder everyone is raving about our senior care franchise.
We are proud of our innovative franchise owners and exceptional Caregivers. We are able to continue to provide unrivaled care to our clients thanks to the awards and recognition they've received for providing quality in-home care.
Our Hard-Earned Awards
Our awards are a reflection of the exceptional dedication, care, and commitment to providing communities throughout the country with the best in-home care services for seniors, disabled clients, and other individuals who need in-home assistance.
Home Helpers Home Care Featured on the cover of the March edition of CIO Views Magazine as "A Most Affordable Franchise to Buy in 2022".
Home Helpers Home Care Ranked a Top 500 Franchise by Entrepreneur
for the second year in a row! Entrepreneur's 43rd annual Franchise 500® ranking shines a light on the unique challenges and changes that have shaped the franchise industry over the last year—and how franchisors have adapted and evolved to meet them.
Home Helpers Home Care has been ranked a Top 500 Franchise by

Franchise Times. The Franchise Times Top 400 is an annual ranking of the 400 largest franchise systems in the United States by global systemwide sales, based on the previous year's performance.
Home Helpers ranked #71 in Entrepreneur's 2021 Top Franchise
for Veterans. Entrepreneur conducted a survey of 150 franchisors designed to learn more about their veterans programs. This survey analyzed each veteran incentive, how veteran franchisees are attracted to and supported by the company, and how each company scored in the 2021 Franchise 500.
Home Helpers was recognized as one of the 10 Best Home Healthcare

and Senior Care Franchises of 2021 by The Franchise Universe magazine.
Home Helpers Home Care has been named one of the 10 Most
Influential Companies of the Year 2021 by The CXO Fortune! CXO Fortune brings the latest happenings in tech world.
Home Helpers Home Care has been named a Top 100 Franchise of 2021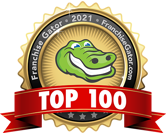 by leading franchise directory and research firm, Franchise Gator. Franchise Gator carefully combs through hundreds of Franchise Disclosure Statements, conducted interviews, and then ranked the top franchises for 2021 using several key factors.
Home Helpers Home Care has been recognized as a 2022 Top Franchise for Less Than $100,000 by Entrepreneur.
200 Top Franchises of 2021
Franchise Business Review's annual Top 200 Franchises ranking highlights the best
franchise opportunities based on owner satisfaction. There are thousands of franchise opportunities available to business owners today and many companies claim to be the "best franchise", but Home Helpers claim is based on actual reviews from over 28,000 franchise owners across more than 300 of today's leading franchise companies.
Top Low-Cost Franchise
For over 40 years, aspiring entrepreneurs have turned to Entrepreneur for information and advice on selecting a quality franchise as they complete their diligence. Ranked as Entrepreneur Top-Low Cost Franchise Opportunity for 2020.
Top Franchise For Veterans
Going on 40 years, people turn to Entrepreneur for Franchising insights. There are only 150 brands are ranked offering incentives and other programs to help veterans become franchisees. Home Helpers is ranked as Entrepreneur Top Franchise for Veterans for 2020.
Top 100 Franchise
Franchise Gator focuses on identifying franchisors with strong growth potential at an investment level that is more in line with the average franchise buyer. The ranking was developed using a formula based on several criteria including financial stability, growth, sustainability, profitability, transparency and franchise satisfaction.
200 Best Franchises to Buy and Top Low Cost Franchise Opportunity
Home Helpers was ranked in the "200 Best Franchises to Buy in 2020" and "Top Low Cost Franchise Opportunities" annual reports by leading franchise market research firm, Franchise Business Review. Unlike many other franchise review sites, Franchise Business Review interviews actual franchisees to gain their perspectives and rate their franchisors.
2022 FRAN-TASTIC 500 Brand
FranServe, Inc. is a franchise consulting and expansion organization that connects entrepreneurs to franchise opportunities, and introduces franchisors to qualified people. Being on the list demonstrates that a brand goes above and beyond the norm in helping people fulfill their dreams of business ownership through franchising!
2020 Top Franchises For Women
Franchise Business Review, is a franchise market research firm that performs independent surveys of franchisee satisfaction, FBR provides the only rankings of franchises based solely on actual franchisee satisfaction and performance.
2019 Top Low Cost Franchise Franchise Business Review
Franchise Business Review's research is the industry benchmark for franchisee satisfaction. Being named means you've been rated an outstanding brand by the people who know you best–your franchisees.
2019 Franchise Times Top 200+
Franchise Times is the only ranking by systemwide sales and units of the largest 500 U.S.-based franchise brands. The 200 largest U.S.-based franchisors grew their combined annual sales by more than 4.2% last year with most categories seeing across-the-board gains well above the previous year.
2020 Bronze Profitability Award Winner by FranchiseHelp
All award winners have demonstrated the incredible resilience of
Franchising throughout 2020. Almost 100 franchisors applied for awards this year (only 3 were awarded a Profitability Award) The Profitability Awards are awarded to franchisors based on margin scores of buy-in and earning potential. "This year's FranchiseHelp Award Winners are an outstanding group of Franchisors who have risen to the challenge. Potential franchisees should look very closely at these brands as they look to join a strong and supportive franchise business that can weather a storm." said Anna Flowers, FranchiseHelp President.
2020 Rockstar Franchisee Franchise Business Review
Each year, Franchise Business Review honors franchise owners who set exceptional examples of achieving success within the franchise model. This year's Franchise Rock Stars were selected from over 28,000 franchisees, representing more than 300 brands that participated in Franchise Business Review's research in the past 18 months. Congratulations to franchisee Ramon & Maria Rodriguez, owners of Home Helpers of Amsterdam, NY.
2019 Rockstar Franchisee Franchise Business Review
Franchise Business Review's research is recognized as the industry benchmark for franchisee satisfaction. Having one of your franchisees recognized highlights how joining your system translates into success as well as the strength of your brand. Congratulations to franchisee Wayne Gentry from London, KY.
Best of Home Care
Each year, Home Care Pulse recognizes the best local senior home care agencies in the country for compassion, work ethic, communication, training, and other categories at the heart of great home care.
IFA Award Winners
Some Home Helpers® Home Care franchise owners have even been recognized over the years by the International Franchise Association for providing exceptional home care for seniors.
Lifetime Achievement Award
In honor of the many great leaders who have contributed to Home Helpers' success and to bettering the lives of our senior clients, we established the Home Helpers® Lifetime Achievement Awards. We're proud to honor them for their dedication in providing the best home care for seniors and others who need home care assistance. They've made outstanding contributions to the Home Helpers® brand through their commitment and hard work.
A+ Certified Offices
The Home Care Standard Bureau's rating program is a rigorous one with extremely high standards. We're proud that many of our Home Helpers® Home Care offices have chosen to meet their stringent requirements, showing their commitment to providing top-quality, compassionate care for seniors, new moms, and others who require in-home care assistance. The following owners have been recognized as "Superior Home Care Agencies" as a result of completing their rating:
Lori Snyder – Home Helpers of Washington, MI
Elena Petrenko – Home Helpers of East Westport, CT
Rick Cseak – Home Helpers of Denver, CO
Brian Davis – Home Helpers of Hinsdale, IL
Chris Gerardi – Home Helpers of Bloomingdale, IL
Wynne Rentz – Home Helpers of Virginia Beach, VA
Russ Thomas – Home Helpers of Greensboro, NC
Debbie Morris – Home Helpers of Hilton Head, SC
Peg Galipeau – Home Helpers Glenmoore, PA
Peter DiMaria—Home Helpers of Enfield, CT
John Crick – Home Helpers of North San Diego, CA
Jenn Hall—Home Helpers of Pasadena/San Marino, CA
Kathryn Jurica – Home Helpers of Bourbonnais, IL
Jimmy Morrison – Home Helpers of Santa Clarita, CA
Wayne Gentry – Home Helpers of London, KY
John DeSanti – Home Helpers of New Castle, PA
Exceptional Caregiver Awards
We're extremely proud of our extraordinary Home Helpers® Home Care Caregivers and the outstanding work they do every day. They're passionate about providing the best home care for seniors and others needing in-home care, and enjoy seeing the resulting relief, happiness, and peace of mind in the families they come to know so well. Congratulations to our Caregivers of the Year!
Caregiver Choice Awards
The Caregiver Choice "Best Place to Work" award is based on votes by the Caregivers themselves – so we're especially proud of this honor.
Ready to become a part of our successful home care franchise? Reach out to us today at (844) 899-8801 to get started!