The Home Care Industry
Our Industry Is Growing Quickly
As the nation's population continues to age, the demand for home care services is expected to have significant growth as well.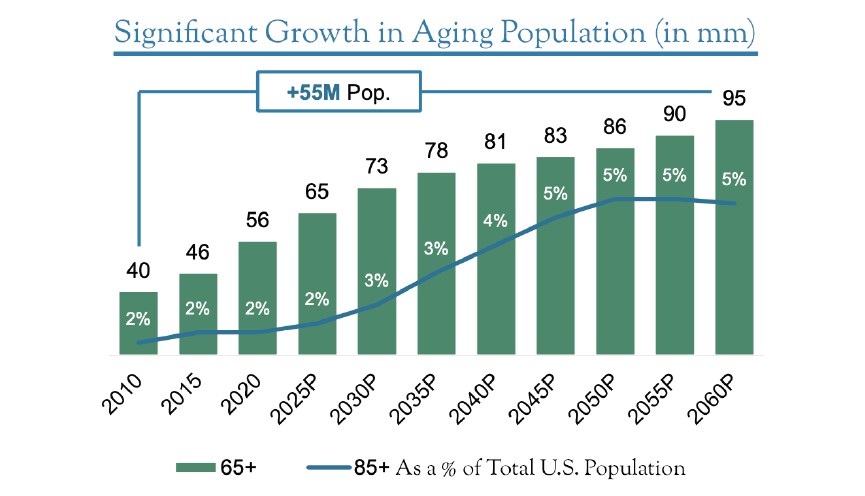 Home Care Is A Cost-Effective Solution
60% Fewer Hospitalizations
31% Fewer Emergency Room Visits
$25 Billion in Hospital Costs Saved by Utilization of In-Home Care Services
94% of Adults Prefer to Remain In Their Homes for Care
35% of Seniors of with Previous Interest in Senior Living Facilities are No Longer Interested Due to Covid 19
A Recession-Resistant Franchise Opportunity
Unlike other industries, the home care industry has proven to be one that is reliable and consistent. Studies have shown that older adults who have the means prefer to remain in their own home and maintain as much independence and dignity as possible for as long as they can. At Home Helpers® Home Care, we help people achieve this goal by offering the care and assistance they need in the comfort of their home. 40% of adults over 65 need daily assistance, and 70% will need help at some point. With these numbers, there is no doubt that our services will always be in high demand.
The Benefits of In-Home Care
The primary reason why our industry is thriving is simple: We are always needed. As the Baby Boomer generation continues to age, our services will only be in more demand, and our franchisees will be there to provide the necessary services.
Our in-home care franchise benefits by:
Meeting the desires of seniors. Nine out of ten Americans over the age of 65 would choose to stay at home as long as possible, and 80% believe that their current home is where they will always live. With a little help, this desire can be made a reality. We offer the helping hand that many seniors need, which can, in turn, allow them to live longer and happier lives.
Filling gaps in existing care. Home care complements existing health care services, alleviating pressure on the overall system, and allowing more traditional models of care to work and do what they do best.
Reducing health care costs. Elderly Americans receiving home care generally need fewer trips to doctors and hospitals. In fact, studies show that seniors using paid in-home care reported 25% fewer doctor visits each year than older adults who did not have such care. As a result, home care reduces overall health care costs, while also creating jobs in a new and growing sector.
Our Scalable Business Model
You will begin your Home Helpers® Home Care journey providing private-duty in-home care services. Private-duty home care services yield higher margins and allow you to develop a strong financial foundation. You can also expand your service offerings to include in-home care for individuals with certain veteran benefits and government assistance.
Additionally, your Home Helpers® Home Care franchise allows you the flexibility to add on skilled-home care medical services and even the opportunity to expand and develop additional Home Helpers® Home Care territories!
Become a Home Helper
Did you know that almost half of adults over the age of 45 commit at least 20 hours every week to care for a loved one? Home Helpers® Home Care helps alleviate this responsibility while also allowing the family the peace of mind that their loved one is right where they want to be. You can become a part of our movement to help the world age comfortably and give time back to their dedicated family members. In addition to the elderly, our in-home care can help people of all ages and with an assortment of chronic conditions. Our goal is to make life easier by delivering the same exceptional care we would expect for ourselves and our families.
Ready to become a part of our successful home care franchise? Reach out to us today at (844) 899-8801 to get started!
Learn more about the opportunity and contact us today!
Read More