Home Helpers CEO Serves on Home Care 100's Coronavirus Task Force
Amidst the pandemic our world is currently facing, Home Care 100 is offering weekly phone calls to help current business owners navigate this new normal. Recently, our CEO Emma Dickison was invited to attend one of Home Care 100's Virtual Coronavirus Task Force meetings.
Through a weekly call, the Home Care 100 conference calls are with top experts and providers who help offer best practices in Coronavirus crisis management and forward-thinking insights into the "new normal."
During this meeting, Emma, as well as several other contributors from a variety of home care services, got together to address some of the current issues our industry has been facing, as well as ways to help keep our businesses successful during times of uncertainty. Specifically, the panel discussed the redefining approach to COVID care, high-acuity in-home models, and various opportunists for home-based services as the pandemic continues to evolve for the next 12-18 months, before a vaccine is developed.
You can listen to the full audio here: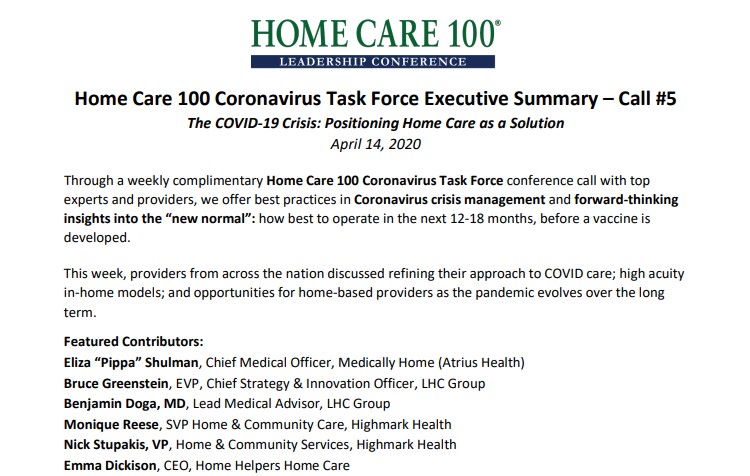 What Is Home Care 100?
Home Care 100 is the preeminent leadership conference for C-level executives from large home care and hospice providers, plus a select group of product/service companies that can fully support providers as they move towards a value-based future. Home Care 100 provides an insightful educational program, relaxing recreational activities, and an inspiring setting.
Become a Home Helper
Did you know that almost half of adults over the age of 45 commit at least 20 hours every week to care for a loved one? Home Helpers® Home Care helps alleviate this responsibility while allowing the family to have the ultimate peace of mind knowing their loved one is right where they want to be.
In addition to the elderly, our in-home care can help people of all ages and with an assortment of chronic conditions. Our goal is to make life easier by delivering the same exceptional care we would expect for ourselves and our families.
Click hereto learn more about what in-home care franchise opportunities we have available!
Posted By